About BizCardCreator
Free Business Card Creator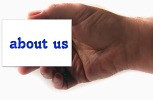 Do you want to know about BizCarCreator.com? It is a website where people can create and print their own custom business cards themselves online for free, using their own backgrounds, logos, fonts and colors.
Since the user creates the business cards online themselves, any costs necessary to pay for print shop employees and shop space are non-existent. Additionally, third-party advertising pays all the costs necessary to run this site. Hence, we are able to provide this service to our users free of charge or membership.
About BizCardCreator.com
BizCardCreator.com uses a self-service approach to business card printing, the user can use as few or as many features as is desired. The possibilities for customization are unlimited. Pre-designed business card templates enable the user to simply "plug in" their information.
The user is free to use our stock backgrounds and logos or their own. The user can use the predefined fonts in the program or use any fonts the user has installed in their computer. Any colors for the background can be used in lieu of a background image. Any colors can be used for the text and the accent decoration.
All these custom options allow for a wide range of custom full color business cards that can be created including double-sided business cards. We provide helpful online resources to assist the user in making business cards and e-mail technical support is provided by our support technicians.